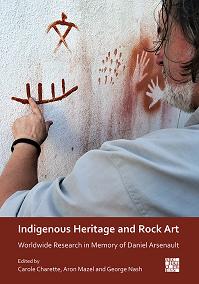 [Études spécifiques]
Carole Charette, Aron Mazel & George H. Nash (2021) - Indigenous Heritage and Rock Art : Worldwide Research in Memory of Daniel Arsenault, Oxford, Archaeopress, 210 p. EAN 9781789696899 / Epublication 9781789696905, 45,00 € / 19,00 €.

Professor Daniel Arsenault, along with his wife, Nadine Desbiens, and stepson, Jacob Desbiens-Doyle, were sadly taken from this world in 2016 following a tragic car accident. Daniel was the leading exponent in Canadian Shield rock art. Working in the northern part of Quebec, Daniel explored many hundreds of square kilometres of this vast area for rock art. Working with ethnographers and First Nation people, Daniel became a formidable force in promoting this little known assemblage, lecturing all over the world and stimulating audiences wherever he went. Complementing his knowledge of rock art, Daniel also had a deep understanding of the heritage of the people whose ancestors made the images. Shortly before his death, Daniel was made an Erasmus Mundus Professor at Polytechnic Institute of Tomar in Portugal. Here, he was due to share his wealth of knowledge and enthusiasm about rock art and cultural heritage to an attentive audience. Daniel clearly had much more to offer, and this book is an extension of his ways of thinking. He has left an important legacy that has touched the lives of many, including people who contributed to this volume. The book has 14 thought-provoking chapters and deals with Daniel's first love - the archaeology of artistic endeavour. It gathers together both academic colleagues and family who share with the reader elements of Daniel's life. The book is also a serious academic volume, providing the reader with new ideas about the interpretation and dating of rock art, ethnography, heritage and material culture
Table of Contents Préface / Preface ; Nécrologie / Necrology - Daniel Arsenault ( 1957–2016 ) ; Daniel Arsenault : The scholarly legacy gone but not forgotten ; Dancing in the dark with firelight: the power of shaded paintings in the uKhahlamba-Drakensberg and surrounding areas, southeastern Africa – Aron Mazel ; Contextualising megalithic rock art on Neolithic chambered tombs: A Welsh perspective – George Nash ; Understanding landscape composition without rock art: A study of panel/canvas behaviour in the Valcamonica, Lombardy, Northern Italy – George Nash ; Prehistory of central Portugal: brief panoramic of rock art and archaeometry studies – Sara Garcês, Hugo Gomes, Luiz Oosterbeek, Pierluigi Rosina ; Pleistocene Art at the Beginnings of the Twentieth-First Century: Rethinking the place of Europe in a Globalised Context – Oscar Moro Abadía and Bryn Tapper ; A multifaceted approach for contextualising the rock art of the Algonquian First Nations in the Canadian Shield – Daniel Arsenault ; E=mc0, an equation for studying the timeframes of world rock art – Daniel Arsenault ; Des images dans la pierre. Une exposition virtuelle en héritage – M. Jean Tanguay ; Geochemical characterization and direct dating of rock art using radiocarbon and optically stimulated luminescence: the study case of southern Africa and the Canadian Shield – Adelphine Bonneau and Michel Lamothe ; Rock art and spiritual beliefs among non-literate societies: Astronomical representations, indigenous beliefs and superstition – Fernando Augusto Coimbra ; Canadian rock paintings: shamanic or sacred? – Serge Lemaitre ; Northeast Indigenous Iconography from the Canadian subarctic area – Carole Charette ; Pacific worlds: Evolution of a methodology for documenting place-based cultural heritage – RDK Herman ; On The Limitations Of The Notion of Prehistoric 'Art': The Case of The Cucuteni-Trypillia Culture of Eastern Europe From Neo-Chalcolithic – Florence Bouvry.